Turkey Imports Corn From the North and Exports to the South
Turkey's Corn production is forecast to increase year-over-year by 900,000 MT to a record 7.7 MMT in MY 2023/24. This projected increase in production is linked to a sizeable expansion in area harvested as farmers are expected to switch from growing cotton to planting Corn. Growing Corn is considered more financially attractive amid weak cotton prices resulting from a global slowdown in cotton demand. Considering these market conditions, some farmers in southeastern Turkey, where about half of the country's cotton is grown, are expected to switch from cotton to double-cropping wheat and Corn.
For the Corn growing season, Post is currently assuming sufficient springtime rainfall, favorable weather conditions, and sufficient volumes of irrigation water. However, if drought conditions persist, the amount of irrigation water might become limited, which could depress yields and production levels. Central Anatolia, Southeast Anatolia, Cukurova, and the Aegean are the primary Corn-growing regions.
MY 2023/24 Corn consumption is forecast at 9.2 MMT, up year-to-year by 300,000 MT. This projected increase is based on the strong demand for Corn to make compound feed and starch. In particular, compound feed manufacturers are expected to increase their utilization of feed Corn because it is expected to be more price competitive than barley. The MY 2022/23 Corn consumption estimate is revised higher to 8.9 MMT, an increase of 400,000 MT over the USDA official estimate. The main reason for this upward revision is higher-than-expected import volumes.
Corn stocks are forecast unchanged from the previous year at 512,000 MT for MY 2023/24. Corn is primarily used in manufacturing feed and, to a lesser extent, producing Corn starch for food use. With nearly 85 percent of Corn used to make animal feed, overall consumption typically parallels trends in the feed sector. At the same time, feed Corn consumption is influenced by prices of alternative feed ingredients.
The Government regulates Corn starch-based sugar production through production quotas; beet sugar production is likewise regulated through quotas. The Government announces annual starch production quotas, which are expected to decrease in size this year. Starch producers use about 900,000 MT of domestic Corn each year. The starch industry's annual production capacity is 1.5 MMT.
In March, the domestic Corn price was about 5,250 TL/MT (~$275/MT), up about 15 percent in Turkish Lira from a year ago. TMO sells feed Corn between 5,000-5,500 TL/MT ($263- 290/MT). Domestic Corn prices have stayed relatively flat during the current marketing year.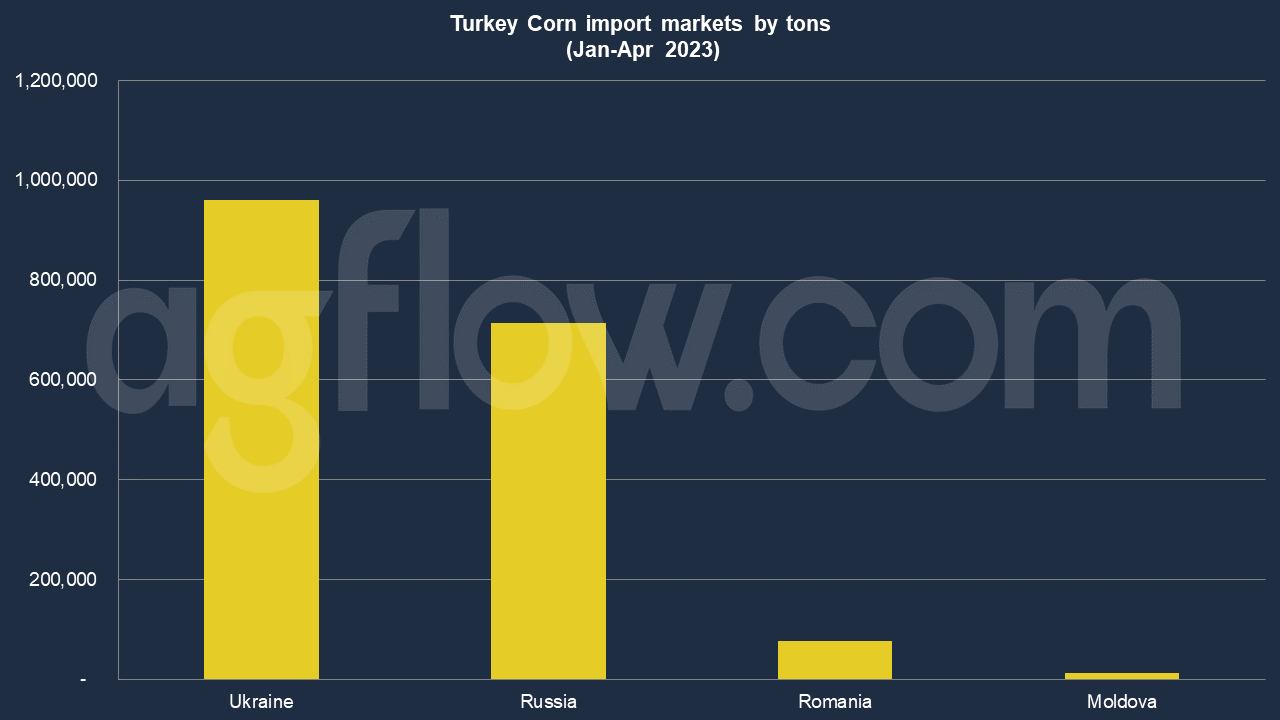 As per AgFlow data, Turkey imported 0.96 million tons of Corn from Ukraine in Jan-Apr 2023, followed by Russia (0.7 million tons) and Romania (76,881 tons). MY 2023/24 Corn imports are forecast to decrease year-over-year by 400,000 MT to 2.1 MMT. The projected decrease is primarily based on the anticipated increase in domestic Corn production. The MY 2022/23 Corn import forecast is adjusted higher to 2.5 MMT, an increase of 400,000 MT from the USDA official figure. This revision is based on stronger-than-expected Corn demand and the latest import numbers. Corn imports from September through January of the current marketing year reached 925,000 MT. The leading suppliers of Corn during this period were Ukraine (481,000 MT), Russia (254,000 MT), and Romania (48,000 MT).
Corn exports in MY 2023/24 are forecast to remain unchanged from the previous year at 600,000 MT, assuming steady transshipment demand from neighboring countries. A large percentage of exported Corn is transshipments. For September through January of MY 2022/23, Corn exports reached 190,000 MT. Major export destinations were Iraq (136,000 MT), Cyprus (21,000 MT), and Syria (10,000 MT). In the first five months of this marketing year, 180,000 MT of Corn was transshipped to neighboring countries from bonded warehouses.
Access Free On Updates for Corn, Wheat, Soybean,
Barley, and Sunflower Oil.
No Credit Card Required & Unlimited Access In Time